Where to buy the Minnetonka Front Lace Boot for women - compare selection and prices from top merchants who carry these boots, get free shipping and returns: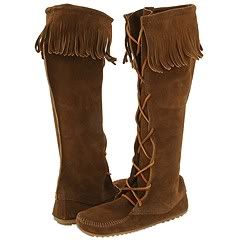 About the Minnetonka Front Lace Boot:
For those ladies who like a loooooong look with a gorgeous moccasin style, the Minnetonka Front Lace is a great choice.
Note:
This boot might not be the best choice for ladies who are quite petite or for ladies with wider calves.
Available colors for this boot:
Tan, Dusty Brown, Brown, Black
Style:
Soft suede leather upper, cushioned insole, classic style moccasin boot.
Dimensions:
16 inch shaft height, 13 inch circumference.
Review Info:
"These are fabulous! I had some blistering on the back of my ankle after the 1st wearing, but once I broke them in they are very comfortable..."
Click here to read all reviews @ Zappos.com