Where to buy Minnetonka Pug Boots for women - Compare prices and selection from top merchants, get free shipping and returns: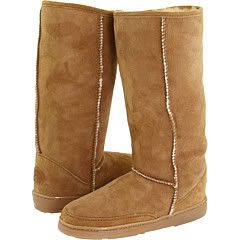 About Minnetonka Pug Boots for Women:
Personal opinion:
We just about can't say enough about the Pug Boots from Minnetonka. Their quality is outstanding and their comfort is - well, it's yummy. =)
Style breakdown:
When it comes down to it, there are actually 4 different styles of Pug boots for women from Minnetonka:
Sheepskin Pug 9"
Sheepskin Pug 14"
Classic Sheepskin Pug 9"
Classic Sheepskin Pug 14"
The difference between the "Sheepskin" and the "Classic Sheepskin"? If you look at the photo on the left, you will see the "Sheepskin" version in a 14" height. They have a reinforcing strip on the front of the boot, where the "Classic" version has a smooth upper about the foot area. The Classic version also boasts some highlights on the inner sheepskin, giving it a bit of an added look.
Our favorite:
The Classic 9" boot. Very very comfortable, and quite well made. Well worth the money - and they generally cost less than other more popular brands (even though they are known to have a better build and a stylin' look).
Shopping:
Our shopping recommendations for the Minnetonka Pug boots include the merchant listings above - Shoebuy.com (our favorite), Shoes.com and Zappos. All provide free ship and returns and competitive pricing. (Check all listings to find any markdown prices that might be available.)